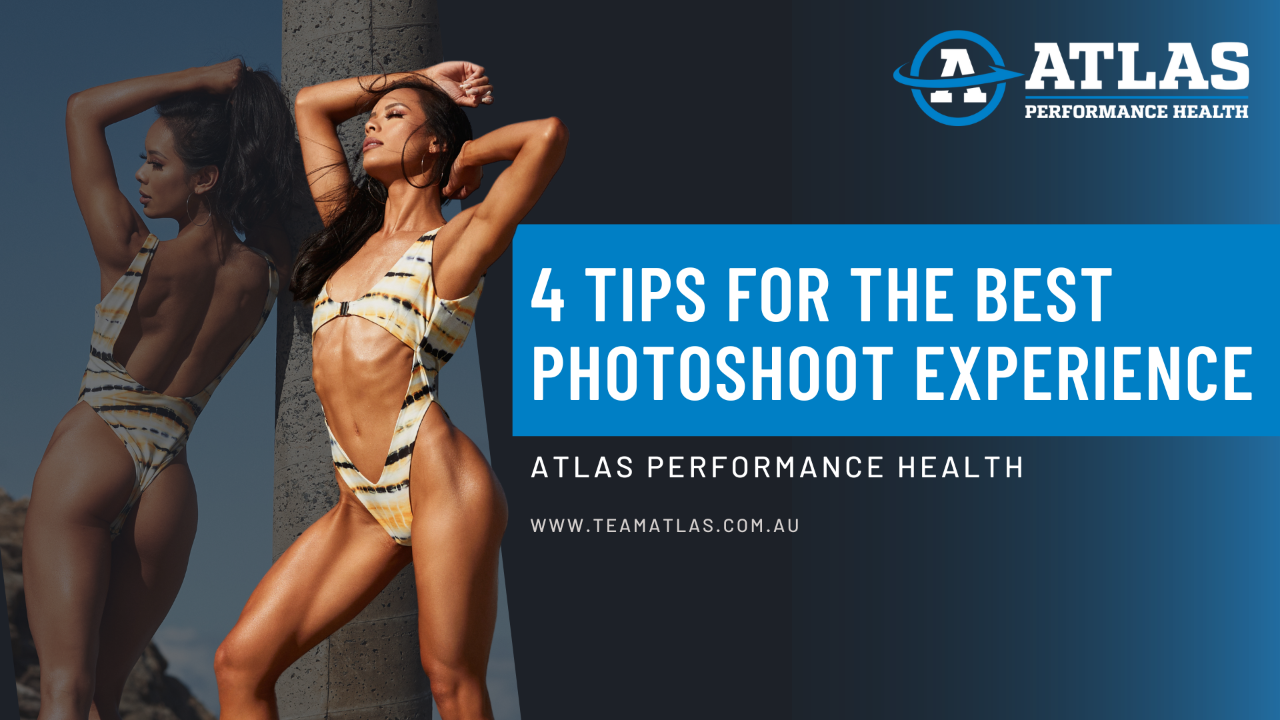 4 Tips For The Best Photoshoot Experience
Feb 21, 2023
Are you considering a photoshoot to celebrate your dieting success? Or are you wanting to showcase the amazing physique you've built?
Well, in today's blog I'll be covering the main things you'll want to want to consider and tips that will help you plan as well as execute a successful shoot – one where you'll be able to proudly reflect back on the overall experience and photos!
Pick A Date
It's important to be specific with the timing of your goal, this advice goes for prepping for your first photoshoot and any other pursuit really. You need to have absolute clarity when it comes to your goals, otherwise you may struggle to stay motivated particularly when the "going gets tough".
If your goal is fat loss and you plan on entering a dieting phase, then being clear on your end date (including photoshoot date) is crucial in order to obtain desired outcomes, as opposed to undesired outcomes.
Additionally, you need to be realistic with the timing of your photoshoot and fat loss rate – this is an important factor you'll want to consider. For example, ask yourself "is 8 weeks enough time to achieve a solid fat loss result that I'll be proud to showcase?" – here we're using 8 weeks to demonstrate a point, however the number is arbitrary until context is provided. For some, you might be answering "yes!" and for others it may be a "no way!" to that question. Context matters and it depends on a variety of things including your true starting position, training age & current fitness level and various other lifestyle considerations.
Read more Atlas Blog Articles here that delve deeper into the topic of dieting.
Set A Plan
Now that you know where you need to go and you have clear direction, it's time to set a plan and a course on how to get there. Don't know where to start or feel overwhelmed? Well, the easier route would be to hire an online fitness or body building coach / personal trainer or even better, join Team Atlas and let us do the strategising and programming for your training, nutrition and lifestyle!
Remember – random training, nutrition and an overall plan will breed random results. Have a plan on how to get you to your goal weight (if you're dieting), start moving and gain positive momentum.
If you're not planning on dieting, there are still things you can do to enable you to feel your best on the shoot day. This could be ensuring you're applying appropriate effort and intensity to your current training and being consistent over time.
Plus, maintaining your current physique still requires effort and smart decision making when it comes to your nutrition. You need to ask yourself if having subpar nutrition and/or consistently over-indulging or filling up your calories with endless alcoholic beverages will make you look or feel you best. The answer to that question for a majority of people would typically be "no". And in identifying that, you can then plan accordingly to fuel your body with foods that align with your preferences & goal.
Research The Right Photographer for You
Depending on where you are in the world, I'm certain there are at least a handful of amazing photographers available – all with their own unique style of photography.
Two crucial questions to ask yourself when selecting a photographer is:
1/ Is their photography and post-production editing style aligned to my preferences?
What do I mean by this? Well, if you prefer a more natural photo then you'll want to steer clear of photographers who are known for their edgy editing and filters. Likewise, if you want more of an editorial or artistic set of images at the end, then choosing someone who already currently produces that is a no-brainer.
From experience, it's better to choose a photographer whose images you already love versus trying to make them produce images that are unlike anything they currently put out. This makes the entire end-to-end shooting and post production process a much more seamless one.
2/ Are they reputable and have positive client testimonials?
This might seem obvious and something I shouldn't have to highlight; however, safety is absolutely worth talking about!
It might be that you're doing a photoshoot without a friend or assistant to help you on the day – don't put yourself in a position to feel uncomfortable or taken advantage of. Your health and wellbeing should always take priority.
Additionally, when shooting with a reputable photographer, they'll typically have a more sophisticated and professional pre-shoot checklist / informational guide for you to come better prepared. It's not just about safety, it's also about ensuring you have a seamless photoshoot and that your money is being well spent.
Come Over Prepared
Your shoot day has finally come around – congratulations! Now as I mentioned above, your photographer should help guide you on what to bring and what they provide, however, it's always better to over-pack and over-prepare than to be stuck without an essential item.
I'll cover the essential items shortly but let's first talk about your photoshoot outfits / looks.
It's helpful to bring along an album of inspiration photos (i.e. saved on your Instagram Collections or Pinterest Boards). These photos can inspire you both with the styling of the model (such as the clothes they're wearing, accessories and for the ladies – how the model's hair and makeup is) as well as the overall poses / mood.
I would recommend having 3-5 pieces of clothing that you know you look & feel confident in. You can look to source and purchase the photoshoot pieces yourself or you can hire a photoshoot stylist to bring your vision to life without lifting a finger! Note: the latter option does come at an additional cost to the overall photoshoot experience. However, hiring a stylist can take the pressure out of doing it yourself and the benefit is that you can hire the clothing items as opposed to having to buy and keep them in storage.
Another option when it comes to add-ons to your standard shoot would be to hire a posing coach. This is not a necessity, particularly if you're wanting to be captured in a more casual posture but having set poses you know work for your body can be a great way to make sure you get your ideal pictures taken.
However, a good posing coach will help you discover your best poses! Every "body" is different and therefore, some poses will look great on some and different on others - discover your most confident poses. Another reason why you want a photographer that is experienced is that they are better at directing your body to get the desired images.
Ok, now let's cover some other essentials you should pack:
Spare loose clothes to change into (i.e. an oversized T-shirt or dress)

Comfortable shoes / slides to walk in

Spray sunscreen if you're shooting in the sun (hint: the Neutrogena Ultra Sheer Body Mist Sunscreen is a trade secret to give your skin that healthy glow)

Bug repellent if you're shooting outdoors and if you're particularly sensitive to bug bites

Makeup to touch up if required (don't forget lip balm to rehydrate your lips)

A hair brush to smooth your hair between outfit changes

Hairspray / gel to restyle if required

A bluetooth speaker to get the good vibes going

A towel or two (one to sit on and one to change behind if required)

Jewellery / accessories you might be able to use to spice up the look

Coconut oil spray if you're wanting to highlight and make certain muscles pop

First aid kit (just in case)

Eye drops to calm irritated eyes

Hair ties / bobby pins

Mini sewing kit & safety pins

Makeup or baby wipes to remove makeup / clean up any messes

Snacks to get you through longer shoots

Water to stay hydrated!

Phone charger and power bank in case your phone runs out of battery from taking behind the scenes photos and videos
Click here to get your exclusive download to the Atlas Photoshoot Checklist
Bonus Tip
Any item of clothing (i.e. bra straps, tight waist bands, socks) or accessory (i.e. hair ties) that can leave a mark / imprint on your skin should be avoided before your shoot. This will leave you with a better outcome and photos that showcase the best you possible!
That's it for today's blog post! I hope you've taken some practical tips away and feel more confident to finally book a shoot and come better prepared.
At the end of the day photoshoots are a bit of fun and a nice way to be able to celebrate your hard work, whether it's post dieting phase or just being proud of your achievements along your health and fitness journey! Don't take it too seriously and be sure to soak up & enjoy every moment of the experience.
Thanks for reading,
Kimmy Duong